January Newsletter 2023
I hope this year brings much joy.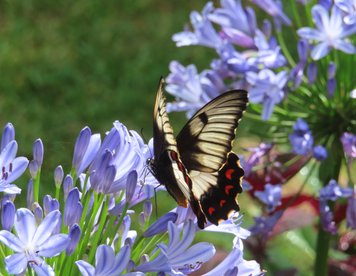 Joy comes from learning and doing things, that make you happy, content, and strong, that nourish you and then incorporating them into your everyday life. Your life should never be stagnant; your life should keep flowing and changing. Fresh and full of vitality. The photograph was taken in my garden on New Years Eve. It adds to my words don't you think?
I am studying a new course at the moment which I love so much because it is helping me interconnect the Eastern teachings with my Celtic roots, learning about the bee goddesses. I'll teach you some of the beautiful meditations this year. There are 8 energy centres in this tradition and they are seen as roses. I have studied the rose of the heart. We still use some of the teachings don't we? Roses are the gift we give to those closest to us. They represent our deepest love. There are many similarities to the Eastern teachings but roses always give me a strong connection to my childhood and mean even more to me than the beautiful lotus. Ancient women's teachings run through every culture.
I have also studied the rose of the brow and the rose of the belly and am looking forward to learning more….
Soft, gentle, love, nectar, honey, grace, sovereignity of self, tending the interior garden, the garden of the mind. Humming, the figure 8, the pause, darkness, breath. The words are already blending and soothing their way into my teaching meditations and my mind and I feel so much more at peace and at home in Australia again.
Gradually, slowly, over the years, I have recorded some of my classes and written three courses on my website as well as a book, Bird Song which will be in print by spring. I have started another book, Love Song which goes deeper, a call to all women to learn to heal from the inside out, through meditation practices and wisdom lectures and to learn to heal from the outside in, through looking after the earth and our own bodies. We are not separate. Feeling yoga, union with of all of life.
Yoga is a practice of transformation, of powerful change and affects you physically and emotionally.
My classes are feminine and nurturing. They encourage you to connect (yoga) to the feminine power within you.
Yoga is certainly not a quick fix, it's physical practices help keep you strong and stable as you slowly change. I love my home yoga practice, I wake up each morning and look forward to spending time in my special space, my sacred space.
Do you want to stay a caterpillar forever?
Money Matters
I have been working on myself. On my need to keep giving things freely. I find it hard to ask for money. Most of my online classes and the three courses are free on my website. I am devaluing myself and the courses, which I know are life changing. Which I know are, unique and special. I have never had the confidence and strength to write this before. I don't like aggressive marketing, your last chance, only 3 days left and so on but.
My website provider is no longer and they have changed my site to a new provider, to a business site. I need to think of my work as a business, because if I under value it, so does everyone else and I want the courses to help you and empower you to create beauty. It has been difficult navigating the new technology…I loved simplesite but I now have a webshop and can sell downloads of my classes.
If you have been thinking of starting the courses, now is the time. Because after January you will have to buy many of the classes which are part of the Bird Song course.
I realised there are 3 courses on the website, interlinked but also separate. That's how it keeps evolving, the work is there and then I see how I can weave it together, very easily to add something more.
The Three Sister Courses.
- A one week crystal meditation course - Is it time to change your mind?
- A seven week yoga & meditation course - Heart to Heart.
- A one year in-depth yoga & ayurveda course - Bird Song
*The classes for the one year course will be available free for January only, so make sure you save them.
There is also a paid option to be guided by me and mentored through the course.
I hope you will join me. You already know how important yoga is to your wellbeing but imagine the changes if you practice more often?
What is Karma?
I visited my local library for the first time in 3 years and came out with 7 books. All of them teachings on life.
I'll tell you about one of them called Karma by Sadhguru.
We have misunderstood karma in the west I think. It's quite simple
"The way I am right now is of my making. The way I am tomorrow is of my making
This is karma the most dynamic way to exist."Tell me what are you making?
There are other types of karma…it is a very detailed book but also a funny and entertaining book.
Sadhguru explains it this way.
"Today if a little child walks before us without even basic nourishment in their body, this is our collective karma. It is our doing. As a society, a generation, we have not done what we needed to do to nourish that child. It is not our child but it is our karma. Every time we look at a malnourished child, we feel a little pain within us. We cannot escape it. This is our karma.
The unemployed, the homeless, the violence in our society, the emotionally unstable, the deforestation, the poisoning of our water, this is our collective karma. What will you do, how will you change things?
Will you be a butterfly?
That's the name of a yoga posture of course but means so much more, don't you think?
Namaste Julie